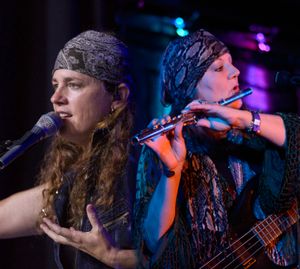 Greetings My Awesome Tribe !

Here's is a summary
 of my life since the release of Hippie Pocket last year.  I don't have a lot of time to write per usual so it will have to be on the brief side. Lynda and I hit the road in the middle of May for our first stop of our summer tour which was the
Heartland Gathering
in Kansas on May 21.  It had been a crazy time getting ready for that tour just like always but especially this time since I was also finishing up the details of my new CD.  The soonest it would be ready was after I hit the road so  I arranged to have the first copies of the 
Hippie Pocket CD's
sent to Heartland for their release. I hoped they would arrive safely not only for their release at the festival but also so I would have them for the rest of the tour! Sending anything to festival land is a little shaky because 1. they are usually off the beaten path and 2. delivery areas can be a bit uncertain. I was worried but did all I could to make sure everyone who would be at the gate and the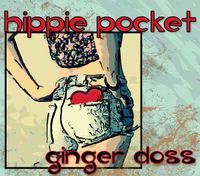 delivery people knew where to go. When I got to the fest someone at registration told me there was a box for me so I breathed a sigh of relief.  But I after I tracked down the box and went to open it, with much anticipation and even a friend taking video,  I found out it was only the t-shirts!  I started asking around and no one knew of any other  boxes. YIKES, It was the day before my release. I started going through all the paranoid scenarios of what I would do without them for the much anticipated release show THE NEXT NIGHT. I as trying to be cool but really I was starting to freak out. I was doing Sedona method emotion releasing steps and any other calming tool I could think of, and that helped but no one seemed to know where they were. I called UPS and they said they had been delivered which was better than saying they hadn't been i guess but where were they?  At a festival that big with that many people volunteering, who knows?  But my love, Andrea,  like the angel she is came trough for me. (She also has a knack for finding things ~ she uses her fae senses, which come very handy) I was doing sound check  but having a hard time concentrating since my CD's still had not been found, I was going through in my head what I would say to people to explain why the CD's weren't here during the show when she appeared way off in the field heading my way, holding a box and shouting something.  Someone yelled: SHE FOUND THEM!  I ran out to meet her with the biggest hug and longest kiss you can imagine.  I was beyond relieved !  I was finally able to focus on the my show and the rest of the fest.  It was FANTASTIC!!   We had a great show with some great responses and after which I started getting the feed back on the album. (You always sweat the first couple of weeks after a release a when your  fans start telling you what they think) People were loving it thank goodness. I had several detailed compliments on specific songs, and different songs were peoples favorites which made me happy.  When they tell you they like it but have no details you wonder if they really mean it you know?  After Heartland we kept traveling until September 20.  Exactly four months straight of touring!  Wow!  That's the longest I have ever been on the road without a break. It was a productive and fabulous trip with many awesome shows.  Behind the scenes though  some dramatic life changing events happened for both myself and Lynda. I wanted to talk about those because when you blaze through town to town there is not a lot of time to share what is going on in your personal life.  It was hard for both of us but our beautiful friends and the music really pulled us both through. 
For me those life changing events were about my mom
.  During the tour I almost lost her twice (Ecoli blood infection and pulmonary embolism).  I will leave out most of the details except the most important one.  My sister bravely managed both episodes and took care of everything.  She insisted that I did not need to come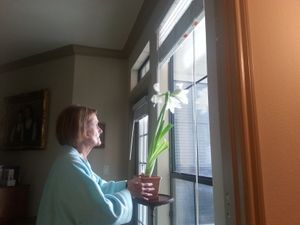 home each time I asked.  And when it appeared that my mom would fully recover (somewhat of a miracle ) I chose to stay on the road.  After my mom's second illness and at the prompting of my mothers doctor, my sister moved my mom out of her apartment and into her house.  Again she insisted that I not cancel the tour and come to Houston to help her, which I would have done and offered to do in a heartbeat.  So in other words,
my sister is the reason I was able to finish the tour last year.
 I thank god every day for my wonderful giving sister.  I am so blessed by her and love her more than I can say. 
Lynda's life changing event
, as most of you may know, was her husband of 10 years ending their relationship about a month into the tour.  It was also revealed after some investigation that he had been having an affair which was ongoing and happening in their home while we were traveling.  She was absolutely devastated. 
But the good news is - 
 Lynda and I are tough cookies!
  And we are surrounded by such awesome love and family and have some very powerful spiritual tools to work with.  
We are so blessed!!
 The magic of our music and strength of our awesome tribe (you included) fueled us through the toughest of those times.  I do need to say how proud I am of Lynda.  It took serious effort on her part to get through the tour under those circumstances.  She is a true rock star and an incredibly strong woman.  She took a 2 week break in July to go down and confront her husband.  It was so hard for her.  The original plan was for her to go home at that point on the tour so she could go with him on a trip they had planned  to California.  I was supposed to continue on the rest of the tour by myself..  But under the new circumstances she decided to come back and finish the tour.  I was sad for the reason why but very glad to have her back with me.
So, despite these things we were blessed to be able to complete the rest of the tour.
  And what an awesome tour it was!!  Despite the personal difficulties everything went very well.  Thanks to all of YOU for your support and for coming to the shows,  sharing the music and even the occasional note of encouragement. <3  It ended for Lynda at
Venus Music Festival
  the last weekend of August, and for me at the
Bulldozer Health
Benefit in Fayetteville September 20th.  After that show I had 3 weeks to finish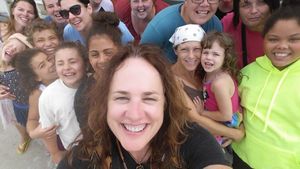 booking and preparing for our
October Florida Tour
.  I also  promised to go to Houston to give my sister a much needed break in caring for my mom.  By then my mom had been diagnosed with MCI (ealry stage dementia) and could no longer drive on top of the other help she needs.  My sister and I also handle all of her business affairs as they are confusing for her.  (I do some of that long distance.)  Another note here is when I stop traveling and playing my income stops as well (working on changing that) and I take odd jobs to make ends meet.  While in Texas I work for Uber.  During that time I worked for Uber in the evenings while I cared for my mom and did music business during the day.  It was a POWER PACKED 3 weeks.
We left on our Florida October 12
, and returned after our house concert in Jacksonville on October 27.  It was wonderful as always.  Back in Texas we had several shows in the area through November: Denton, Houston, Austin.  Needless to say, by Thanksgiving we were utterly exhausted but in the best sort of way!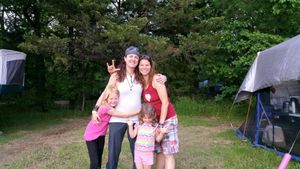 I was not done though
.  I had another big step to take.  After all this touring I had planned to move to Fayetteville, Arkansas to be with my girlfriend Andrea and our kids, Rowan and Willow.  So I packed up as much as I could carry from my storage unit in Houston and left for Fayetteville. There I would spend both holidays with my girl of 4 years for the first time.  I took a holiday job there working for UPS as a driver helper, which had me working through Christmas Eve.  (Cause you can't make money doing music if you sit still for long) Then Andrea, the kids and I went to  Memphis to celebrate Christmas with the kids' dad.  It was a happy and laid back time.  After Christmas I went back to Texas to again relieve my sister, care for my mom and get the rest of my stuff out of storage.  I also went to San Antonio for a
GBmojo
online show. (FUN!) Then it was back to Fayetteville.  
We've got another one coming up March 15th.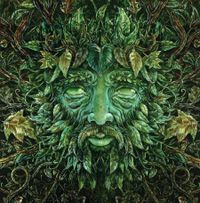 January was the month I had set aside to work on my song for The Green Album
, a compilation CD by many great artists in my expanded community.   Many of you have probably heard about it by now.  
Really exciting!
  The contract I signed months earlier had me on a deadline to finish writing and recording the song by February 2nd.  It had to be a new song not yet released.  When I sat down in January to work on it I started from scratch.  I had an inkling in my mind of what I wanted it to say but that's about it.  I also needed to find work again cuz the bills just keep coming - right?  Don't we all know?  Which I did, by the way, working assorted handy jobs for friends in the area.  (I am pretty darn handy - I can work a saw ya'll!)  When I wasn't working my day job I spent  many hours working on my Green Album song in my mobile studio set up in the apartment.
 Now finally it is done and recorded!  YAY!
I am now working hard on booking gigs for the upcoming summer tour.  
Check my calendar for details as they develop,
and making a secure nest for myself and my love here in Fayetteville I  continue to live a life focused on my music and spiritual work,  You can help me by holding that vision with me. <3  I will send out the brightest light to all of you and hold a vision of highest well being for all my tiribe and their tribe and on and on....  2016 looks like its gonna be a great year!  Hope to see you on the road SOON!!