Bio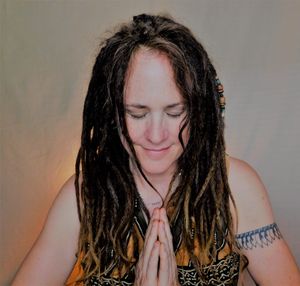 ginger doss (They/Them) is a performing songwriter, music producer, spiritual practitioner and inspirational speaker. Their dynamic and compelling songwriting explores multiple genres, including rock, alternative groove, tribal and folk and is inspired from a passionate and diverse study of spirituality. They tour extensively throughout the US and Canada igniting audiences with high energy performances and music that radiates with all the colors and callings of the divine.  They won a Posi Music Award for the song Thankful and the Audience Appreciation Award in the Women in the Arts Talent Competition at National Women's Music Fest ~ one of the country's largest and longest running women's music fests. They have self produced all four of their independently released albums are currently working on a 5th ~ a concept album called Sacred Flow merging sacred practice and symbol with song. 

HOLD ON TIGHT ~ The Chakra Rock of ginger doss will rock your body. wake your soul, and set your heart on fire!! 

"The energy & spunk Ginger brings to her (their) music & performance will make even the shyest of people want to get up & dance! Her (their) music moves you at every level of your being!!! "
- Rev. Aislinn Firehawk, LMT, Music Coordinator, Gaea Goddess Gathering
 
"Ginger Doss is a phenomenal performer and an exceptional beam of light in the world. Her (their) captivating beats and soulful voice lifts the vibration of the listener and is a transformational experience.!"
- Donna Davis, Events Coodinator Oakbrook Center for Spiritual Living

"Ginger's music embodies a substance and beauty that really stands out and is a must see for music fans of all kinds." Susie Beiersdorfer ~ Youngstown OH UU


From the artist 
A note on my pronoun transition:   
For a long time I have been in a gender quandary. Growing up, I mostly identified as male even though I was woman born. I was in a very conservative household and expressing that was not allowed. I had to conform to all that was expected of me as a "young lady". There were times when I would fantasize about gender reassignment surgery. As a child I even prayed that god would change me. It would make me incredibly happy to think about, but when the reality of how a change like that would affect my family relations sank in, it was too much for me emotionally. It absolutely did not feel safe for me to do that. So many deal with this kind of anguish when they do not identify with the gender they are born. Also as a deeply spiritual person I truly felt that spirit put me in this body for a reason. I continued to live life as a androgynous gay woman feeling a bit out of place pretty much everywhere. As time went on and I matured, I realized that even as a part of the feminist & LGBTQ community I didn't seem to fit in - in the way that others did. But I still care so much about those communities and hold those issues dear to me. I have kids but I don't feel like mom. I def feel like dad. But I am not like any dad I ever knew. I am baba to the kids and that works for me.
I am just me. I am just in the middle.
Many around me have changed their pronoun to more accurately reflect who they are inside. I kept telling myself that it didn't matter what people called me - yet neither pronoun felt accurate to me. And the "They" Pronoun seemed too confusing. It's been hard for me to use for others. But then I met some pretty awesome "They's" and some of my kids' friends started using it too. I got use to using "They" to describe one person and suddenly it became clear. It's time for me to speak my truth.
I am non binary and I prefer to be referred to as They.
I do care that people know this about me.
But hey if you slip up absolutely no big deal. I am not going to stress about it because stress robs me of the most important thing in my life, my peace of mind. The most important part of this process for me, is that I *express* it. And since I expressed this a huge part of me has healed.
I think my mom's journey in hospice has something to do with this. "It changes you..." a dear friend said to me. Oh they are so right. Care taking a loved one who slowly takes that journey will shift your priorities very fast. I am so blessed by every day with her. It is exhausting yet so delicately beautiful. She is reaching out to me in a way she never did before. It feels like an acceptance I never had before. It is reassuring on a soul level and it is helping me ... with me. And most importantly with her journey and my own with her.
There are some of you out there who will roll your eyes. Roll away. This is not about you thankfully. I don't claim to know all the in's and outs of this. But the most important part of this is done. The part where I tell you and everyone else, my preference.
My Story

When I sat down at my first piano lesson at six years old My teacher asked, "Do you know which key is at the middle of the piano?" I looked down and touched middle C. He looked surprised. "That's right!" he said. I still don't know how I knew that - but I'm pretty sure this isn't the first lifetime I've played the piano.

From then on the piano was central to my life. I started writing music from the moment I could get my fingers to work well enough to play something, anything. I studied classical piano from the age of 6 to 16. Then I entered the High School for Performing Arts in Houston, studied jazz and received a degree in instrumental music. I began playing in bands in high school and played in lots of different projects including the all female rock band Velvet Hammer and later Dreamtybe. Now I am venturing out solo.  Five years ago I left many of my worldly possessions behind to live the life of a nomadic musician.   My life became a life of surrender and trust and that's when I watched the magic of life unfold before me like never before.

As an introverted child, I  used song writing as a vehicle to express the parts of my experience that were difficult to talk about. I still find verbal expression difficult sometimes face to face.  Maybe that's because I learn to speak through my music at the same time I was learning to talk. "Why talk when you can sing?" (from the song "Sister",  Hand and Hammer)  I discovered in music an outlet for expressing in ways that could reach deeper and say more than any spoken language.  The songwriting process never stops surprising me, teaching me and challenging me. My connection to the divine is nurtured and strengthened through that process. When I sit down to write, my hands just go - moving on the keys, guided by the emotion of the moment and the desires my heart longs to express. Words come, like sounds that mean nothing at first.  Then, as I sing the melody that begins to form over the piano, I open a gateway into the deepest part of me and the words flow. I have come to realize that this is a channeling process, and sirit some how some way is reaching through me, through this music.  I have watched as the meaning of my songs evolve and expand throughout their life time and over and over again. They continue to teach me. It's a little creepy how revealing and prophetic they can be years down the road. Sometimes I wish they wouldn't be such LOUD teachers, like pulling a rune, like seeing the signs, like knowing when you know from the heart with nothing else to go on. But I love it so completely... it is not within my ability to stop.

When I was a kid I used to run around with a tape recorder and record comedy skits.  I would do all the voices of the characters and had a blast creating effects and making it sound as real as possible.  I would spend hours doing it and would always come up with new ideas.  When my folks bought me a 2nd tape recorder I started using two at the same time; one to generate sound effects that I recorded earlier and the other to do the main action. I also recorded the songs I was writing as a kid.  I still have a lot of those tapes.  My point is that I have always had a love of recording. Now my gear and knowledge are far more advanced but my passion remains the same. Having my own studio is a great way to explore and expand every aspect of my writing. I love being able to create arrangements for my songs with the hundreds of realistic samples and looping programs I have at my disposal.  I never had a problem hearing what different instruments would play in a particular song. Now what  I hear in my head can manifest before my ears as I sit alone (when I do my best writing) and I can choose from so many different instruments right when the inspiration hits (don't have to find a trumpet player at 3am - how lucky is that?).  With these tools I can completely surrender to the instinct that has guided me since I was a child; test it and fine tune it with my ears, then save it to hard disk. As my good friend SJ Tucker says - Its good to live in the future.

I am very proud to be an indie musician. I love the creative control and purity of producing my own music and managing my own career. Although the task is daunting sometimes and I could definitely benefit from the help of others. I am glad I got the ball rolling without outside interference first. This way my music developed naturally without being molded into something that didn't come from my heart.  I am proud to say my goal of releasing three self produced and engineered albums in first three years of my solo career was achieved. The first, titled "This Cocoon", was released March 27th 2009. It is a more personal reflection of my song writing. I have to say I love this album.  When I listen to it I really enjoy it - anyone who knows me knows what a stretch that is. I have a super critical ear now that my engineering skills have developed, especially when it comes to my own work.  It's a tribute to my life and emotions during my transition into a solo career - a very intense time. Each song still speaks so clearly to me.  I love that most of the songs here are in 3/4 time, and yet they are so different from one another. I love that I got to rock out on guitar on three of the songs (my second love). Then throw in a couple of heart wrenching ballads, and even an upbeat jazzy love song (who knew I could go there?) Each song is a very different entity,  And I am finding that to be something I do naturally. Listening to them now is very revealing to me.  

The 2nd album Hand and Hammer is a collection of favorite songs  from my past  that have taken on new life as I have been performing them around the country acoustically, bringing them back to the roots of how they were written - just me and the piano. Add to that the sound of the djembe (the African drum that has become more and more apart of my musical expression) and the power of the tribe that shared so many amazingly magical nights of music and sparkling energy over so many miles and you have a very organic sounding record.  It was released in May 2010 and reflects the spirit of my life on the road with my duo GBmojo. Big love to to duo partner at the time  Bekah Kelso and all the people who allowed us into their lives while we adventured across the country. Those years of touring taught me many things that I will forever be grateful for. 

From Love to Love was my next  release, and what I consider to be my first real solo release, because it had the most current songs of mine,  all written and produced with  a the intention of developing my sound as a solo artist.. This "sound"  I now understand will always be evolving and reflecting the many sides of me. Out  May of 2012  From Love to Love reflects my heavier rock and rhythmic side.   I gave myself full liberty here.  I played most of the instruments myself using keyboard samples. It was an amazing  journey; from the creation of the fan funding "quest" and the stories that evolved from that (still posted on my blog) to the cathartic release of emotions resulting from grief over a past relationship, to the joyous and light filled connection to spirit evolving within me and bursting to come out. I used a wide variety of instrumentation and melodic textures and rhythms.  I also explored and expanded my approach vocally.  It was very hard work and I loved every minute of it.  I also had contributions from some of my closest friends and musical allies;  Tabber Millard and Chris Williams on drums, Sj Tucker and Lynda Millard on vocals, and Ben Fenton on Guitar. 

My latest release Hippie Pocket is the most fun I have ever had making a record.  The songs are inspired by my experiences living life on the road, playing music in and discovering so many hippie pockets all over the planet ~  They are more than ever the product of being surrounded by spiritual awakened and open minded communities who support each other's individuality and spiritual expression.  This album is result and  positive effect that this life and the beautiful people I have met and connected with  has had on me. ( i am a happier person by far!)  I still have the same passion and connection to the divine within these songs but here there is also an element of fun that weaves it way into the music. This happened very natural as does all of my writing. 

There is no part of my music that is not touched by my spirituality. My connection to spirit is not limited to any one path and neither is my music. I recognize the light and power of the universe as unconditional love and you either resist or allow it. One of the most powerful places for me is where music and spirit meet - and sharing it is one of my greatest joys!