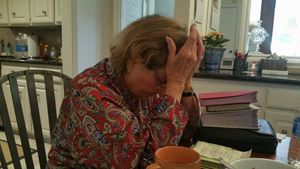 Day 5  in Houston with my mom. She is doing pretty well. I thought she'd be in a wheel chair because she was when I saw her two weeks ago.  But she's been upgraded to a walker. So yay for that! (This picture is of my mom doing her morning prayers) 
To review, my mom's health has been a roller coaster ride of ups and downs for the last 3 years.  She had been pretty healthy her whole life.  Things seemed to decline after my dad died in 2014. I moved in with her a few months after his death to help manage things like bills and whatnot because Dad always took care of that. Mom is pretty clueless about managing finances and never cared much for computers. We tried to encourage her to learn but no luck. It was weird to be living with her again but it helped me with the grieving process over my Dad to be close to her.  My sister and I started to notice some cognitive issues around that time. She didn't seem to be in touch with her grief over Dad. I have seen her push the hardest emotional stuff down and go forward like nothing is wrong since I was a kid, so it wasn't that big of a surprise but it was clear there was more of a disconnect now. We talked about it and she told me she felt like Dad was just on a business trip.  They spent a lot of time apart over the years as a result of his traveling. But I could see that she was loosing touch about more than just that.   It was early 2015 and I was in the middle of  writing and recording my Hippie Pocket album.  I had set up my keyboards and recording gear right there in her apartment. And this was a small apartment !  But I worked mainly in headphones and recorded vocals when I was alone.  I'll never forget my mom's reaction to hearing Charlotte Bogangle.  She was the first person to hear it and she loved it!  It's still her favorite song of mine on that album. Anyway during that time out of nowhere she got a fever and it incapacitated her.  She couldn't keep her balance and her mental processing slowed way down.  I went into serious care taking mode.  (see my blog post from that time). It was very scary.  It was bringing up all the trauma over how we lost Dad.  We had just thought he was sick with a cough but it turned out to be congestive heart failure.  He went into the hospital and two weeks later he was gone.  And here we were again, trying to figure out what was causing my mom's fever, and it kept going up. We were about to take her to the hospital and I was afraid she was not coming home either. Around this same time a good friend of mine was diagnosed with breast cancer. Ok I thought, time to work on a healing song.  And that's when I wrote the song  I am healing.  She recovered soon after that thank goodness and we didn't have to take her to the hospital. Things balanced out over the next couple of months and I was able to finish the album. Then came time for me to hit the road for 4 months. What I didn't realize when I left was the tough road that was ahead for her. I'll skip the details here but while I was gone she had a pulmonary embolism (which people rarely survive) and then got an e-coli blood infection while in the hospital which almost took her life after she got home. I braced to cancel the tour and rush home but my sister kept reassuring me.  First she would tell me wait and see what happens.  Then she would say it looks like she is going to make a full recovery and be home soon!  So I sighed with relief and kept going. But through this experience we realized she could not live alone anymore and that's when my sister very generously moved my mom into her home with her husband and youngest son.  Mom was completely moved out of that apartment before I got home from that trip. I will always remember the time I lived with her there, sharing each day and even the work I did on my music with her. It was precious.  
Fast forward to now.  It's two years later and my mom still lives with my sister.  She has been diagnosed with early stage dementia and Multiple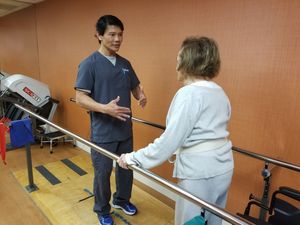 Myeloma. She also has heart valve and kidney issues.  She broke her hip on Nov 17th after a fall in the kitchen.  I was traveling on the west coast for The Muses on the Road Tour when I got the news.  She said she turned around and then boom she was down.  Apparently she stayed down for 4 hours until my sister got home from work.  She told me she did not have a lot of pain but she thought her right leg just wasn't working so she couldn't get up. She had dragged her self over to the pantry to try and use the shelves to get up. I have to admit, even though I was horrified by the thought of what she went through, I was pretty impressed by her determination.  More proof of where mine comes from. :D She had surgery to mend the hip with screws a couple of days later and then was in rehab until Jan 11th. I visited her a couple of times during her stay there and then made plans to come back when she got home to help with the transition. Now I am here in Houston and I plan to stay until Feb 8th.  I have made the trip between Fayetteville and Houston so many times now, there are starting to be grooves in the road along my route. 
She had a great first day home because her spirits were high and she was excited.   Lately though she has become discouraged. I believe this is mostly because her energy and strength are low and she feels tired and clumsy all the time. Her dementia makes it hard to know where she actually is in her understanding of what's happening. Her perception seems to change from moment to moment.  It also makes her more uncoordinated. She is very engaged most of the time and you wouldn't think she has dementia at first glance. Her type is the sneaky sort that lays just underneath the surface, attacking her mechanical ability as well as her memory and processing. She has very little pain which I am grateful for.  But I think she thought when she got home things would be better than they had been.  Like she would go back to the place before she ever got sick.   I think it's making her sad to see how much help she needs. I keep having to explain to her that she is in the process of recovering from a broken hip and that she will get stronger every day. She tells me that she didn't realize she would still be this weak when she got home.  She doesn't remember the hospital stay. Deep down I realize that with progressing dementia, and all of her other issues this may be as good as it gets for her. 
This is when the sadness, grief and frustration that has been lingering underneath everything regarding my mom takes over. I don't want this for her, for me, for anyone. My heart is aching and has been since before I came back. Time to deal...
So I thought I would share the process of how I am I coping with this. Maybe it will help others taking care of a family member or dealing with a sadness or depression that they just cant seem shake. It took me a while to put this into words and then I even put it into steps. I like steps.  ~ So here goes.  
The following are tools I have used and steps I have learned to take from lots of study and experience, new ones I am still learning to use and develop through practice and study, and some  that are just instinctive.  These are the steps I actually take.  I have gotten myself out of some pretty dark places using them.  I hope they can help you too.  (Book sources below)
Ok, I tell myself, here you are.  I remind myself this not *who* I am but *where* I am. Have you heard that expression before?   It helps me to put things in perspective. In other words, I am not this situation.  I am an infinite being dealing with a situation. It gives me some distance from the emotion that threatens to crush me, if just for a moment. It reminds of my divine nature, that I am more powerful than the situation and that I can rise above it.  I like to psych myself up before I take on a challenge. I am a true Aries this way.  It works for me. 
Step 1: I become aware of my thinking.  I have dealt with depression more than a few times in my life.  Sadness over obvious things you are dealing with isn't depression, it's human.  For me the warning flag over my emotional state comes when I am sad and I don't know why. Or if I am not in touch with why.  And I just cant seem to get out of it. If it lingers like a shadow and starts to interfere with my ability to be productive or my ability to even want to be productive and I just cant seem to shake it ~ that's the definition of depression for me. This is when I know something deeper is going on. Taking stock of my mindset is my starting point whenever I am dealing with a sadness that seems to creep in and just sit in my stomach. It's like taking a poll of the current opinion circulating through my inner world and dictating the weather there.  This opinion creates the atmosphere I live in and effects my outlook on everything. Hard to go through the day with a thunderstorm that won't stop pounding down the rain inside your brain... threatening to brake the damn.   It is crucial to be aware of the thoughts running the show up there ~ not just live as a victim of them. So I watch my thoughts as I experience and feel them through my day.  I try to do this with as little judgement as possible so there is clarity.  Just watch and notice.  Kind of like those dreams where you are watching yourself. I learned  this technique of observing my thoughts without judgement from a book on meditation that jumped off the shelf at me one day.  (The Joy of Living). It changed my life in such a huge way that I teach this technique in one of the workshops I give on meditation: Modern Meditation Techniques for the Hectic Lifestyle. 
So with the intention of watching my thoughts I go through my day caring for my mom.  I get her up,  assist her walking, help her dress, clean her,  make her meals etc. Then the thought pops up: This is my future.  This is what I will be like one day. <ow>.  And then at another time I think She suffers so much and It's only going to get worse for her.  This will only get harder and harder for all of us.   These are just a few of the depressing thoughts I have... there are lots more and I make note of them all. My moms's discouragement is obvious by what she says and her body language. I think: Someday someone will probably have to take care of me like this... I don't want that!  I would hate the humiliation, I would rather die first.  She probably does too! She is miserable and hates her life! I think. Wow. 
I thought this ache was from the sadness of watching my mom decline but it is so much more than that.  Until I took a moment to take stock i wasn't sure how much more.  No wonder I feel this way and can't shake it. I have decided what my future looks like and I a living it now.  Big breath, I can turn this around. 
Step 2  Cultivate compassion. We were not meant to be slaves to whatever thoughts run rampantly through our mind. These random thoughts are a product of our learned reactions, the influences of our environment and  what we choose to expose ourselves to (yes many times it is a choice).  Also what we learned from what we were exposed to as kids. (no choice there)  "All experiences are preceded by mind, having mind as their master, created by mind." The Buddha.  From a blog in Psychology Today about Mindfulness Training and the Compassionate Brain: 
      Functional magnetic resonance imaging (FMRI) brain imaging shows that positive emotions such as loving-kindness and
      compassion can be learned in the same way as playing a musical instrument or being proficient in a sport...people can develop
      skills that promote happiness and compassion ~ they are not just stuck at their respective set points,
Yes compassion can be learned and cultivated; One way is by deliberately choosing compassionate thoughts; compassion for mom, for myself and for my whole family. And why would we do this? Compassionate thoughts wake the warmth that lays within the heart of every human being.   Compassion is the seed of enlightenment and calms the storm within.  Try it.  Allow yourself to feel it. It stirs something greater and wakes the soul.  It resonates at a higher frequency.  It will lift you up.  But be aware...  be real about it.  Don't think something compassionate followed by rolling your eyes and snickering about it. That won't do any good.  This is no one's fault. I think. I lean down and tell her I love her. I rub her shoulders and give her a kiss.  I close my eyes and wrap myself in a virtual hug. I send love to my sister.  This is a practice I have done many times in answer to feeling helpless, stressed, frustrated.  I turn to compassion and love. After lots of practice I have found that the positive effects of this come quickly and with continued practice I can turn the corner from a deep sadness never to return to the previous state of feeling completely lost, helpless and sad.  I begin to feel a little bit better. 
Step 3 Allow this pain, this grief. Let it out ~  I go upstairs while she naps and have a big cry. And no judgement here...This is part of cultivating compassion for myself. I will be my own shoulder to cry on. Just let it out  I tell myself. This is hard yes, and we are all doing the best we can. After I recover, dry my tears and blow my nose, I start feeling  a lot lighter. Breathe again.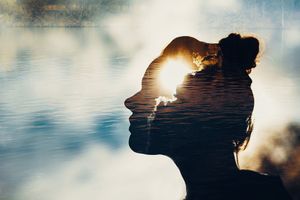 Step 4  Redirect my thoughts to create a more positive mental environment. Now that I have had some time to express and release there is space for this. And it is ongoing ~ you have to keep practicing this like any new thing you learn. It is work but it is taking control of *my* mind, my life experience.  Hey, all you thoughts, this is MY mind MY LIFE!! Countless studies have shown that thoughts that are more positive in nature are healthier for the body physically as well as mentally, actually changing the chemical structure of the brain, speeding healing and reducing pain.  It's also healthier for everyone I come in contact with. I have seen this for myself.  And I know that improving my mindset changes my energy for the benefit of every living thing I come in contact with; my animals my plants and my people.  Actually the whole planet.  These thoughts are also more in alignment to the truth of my being. (But this is a whole other blog) So is it worth doing this work? OMG yes.
Here's my process:
This is my future  becomes: I still have many years ahead and lots to look forward to. That's a bit better, And I notice that I feel just a bit lighter. 
And, of course,  the target thoughts come back because they are habitual. No but really, this is my future! Becomes Are you a fortune teller Doss? Do you really know what your future holds?  Do you know what medical advancements will be made in the future?  There may be some sort of miracle robotic chip insertion available to you.  You don't know!  Also, you could get shot tomorrow.  As long as you are making stuff up... why not go there?!  Ok that shuts me up. Half smile. ;) Thsee thoughts will come back over and over and I will be there to meet them every time.  Eventually they will loose their power. 
"It's only gonna get worse for her. Becomes: So you're fortune telling again Swamy Doss? You could both be walking down the street and get hit by a falling anvil!  Ok. Feeling better makes me go into cartoon land, but that's just me.  
You get the picture.  Each time I have a disparaging thought I balance it with what the Buddhist call the antidote to that thought. Through awareness I notice that all the thoughts that consume and upset me are almost always assumptions about the future. They are an imagined future. How dare I let these assumptions about events that may never happen rob me of my peace! There is always the choice of how I see the present. If I look for the divine in this moment, I will find it. If I dwell on the negative then my world will be a negative one. Its that simple. My mind is the control center for my life experience and the energy I am sending out.  But learning how to  change it is a delicate process and one that takes learning, compassion and a sense of the sacred. And always remember,  letting yourself feel is just as important as the rest of the process.  You are just learning not to let those thoughts imprison you.
I also -
Meditate at least 5 minutes a day using the Insight timer app. 
Do something physical like work out, take a 30 minute walk or yoga every day
I have removed news links from my google app and limit social media exposure
limit the amount of news my mom and I are exposed to.  If it wasn't for me she would watch fox news all day. NO ONE should live like that. ;) 
While I was writing this my mom got up with her walker, went over to her pile of things, grabbed her phone, her calendar and and her address book and tried to balance them in one hand while she walked back around a tight corner with only one hand on the walker.  Um, no.  This is why I am here.
"Mom let me get those." I say
"I can get it." She says. 
"No mom, you need both hands on the walker."  I say. 
"I can get it!" She says.
"It's not safe to use a walker with one hand"  I say.  She is struggling to actually move the walker forward and the pile in her hand is about to fall. I am already there and take the bundle of things from her. 
"I am gonna get rid of this walker!" My mom says with determination. And she means that some day soon she is not gonna need it anymore. 
"Good!" I say.  I set the pile down and help her back to her seat. 
OK so my mom's attitude just changed from what it was an hour or so ago.  While I was writing this I started to feel better and better. As an empath I send out vibes just as strongly as I take them in. Did my mom react to my changing mindset?  I believe so - even if it was just a little bit. I know I have changed as a result of writing this as well. Energy, people:  It is real and it is magic ~ and we can be the master of our own. 
So it's the next day.  My mom is remains happier and so do I. I didn't know that would happen when I started this.  It just started as an update about mom but it turned out pretty cool. Meanwhile because I know I am in a challenging space and sadness can and will crop up at any time, I am going to continue to cultivate compassion for myself and others; allow myself to feel what I feel and release it, then focus on redirecting my thoughts to a more positive place.  If I have a hard time thinking of positive antidotes to my overwhelmingly depressing thoughts (which happens when you're really in it sometimes) I will do some reflection.  Write down the sad thoughts I have (without judgement on myself)  then think about the antidotes to them so I will be ready ahead of time when those thoughts come up. This way it hopefully doesn't take me over.  Yes I will be sad sometimes and that's OK... but I will work towards a brighter clearer present moment so I can enjoy more of this time with her and not be lost in the sadness of it. 
The process I describe above is one I developed for myself through a combination of studies along with my instincts which, for my spiritual work, have always been very strong.  Here are some of the study sources. 
Btw:  These books speak to me.    I follow what they teach because something inside me resonates with this. Some of the things I read in these books are things I have already thought.  And what doesn't work I cast aside. You know when you stumble on information that makes you glow from the inside out that your soul is doing the big nod in the sky.  There is a reason you feel that way.  It is a sign forward, an affirmation from the divine. This may not be for everyone.  I acknowledge that and am totally fine with it. My hope for you is that if this method doesn't work for you that you will find one that does.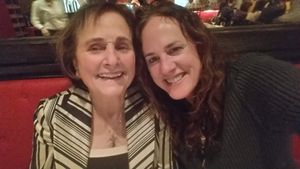 I hope you got something awesome out of this post ~ more than just the update on my mom and where I am with it. I know I have! I honestly didn't expect that working on this would have such a positive effect around here.  Part of that is because my mom seems to be happier which makes me even happier.  But I started to change my vibe first. It follows that if the changes we make help others to feel better, then we are sure to be as effected by them as they are of us. A vicious cycle of higher vibes making the world a better place. I love it. 
Thanks for reading.  And let me know what you think ~  Namaste 
Love
ginger