April 30

I have this wideness... a sense of being that feels "big picture" when I prepare for a tour. As I reflect on things I realize that this time is different on many levels. First, I am leaving after finally settling in my new home with a family that has waited for me to settle here for 4 years. And I look at them and think ~ how can I leave them? Then Andrea takes my hand and says - "This is what you do. And I love what you do. The world needs what you do. And I am happy as long as you always come back to me." And she says it with the most beautiful smile you can imagine. Wow. Really ? heart emoticon And my Lyndie (Lynda) ~ if you all could know the strength it is taking for her to do this with me. The pain she has endured ... I am so proud of her and blessed beyond measure that she will be with me! (at least for the first half) I look through the list of shows and think ~ of the magical beautiful people who make this possible and *so* worth ever step I take to get to them, the long dark rainy roads and the open bright drives through the mountains, The scary motels and the willing strangers floor, the tent in a big storm and naps in the car, The energy work and the new connections, the tears during a conversation that speaks so deeply to my heart, and the exhausted push to the next show, no matter what, no matter what! the saving of the voice, the laundry mats, loading out, packing the trailer, loading in, packing the trailer, the truck stops, waiting for a decent meal and getting a big delicious home cooked meal when you least expect it. the constant trusting and the constant affirmation of that trust ~ even in the "bleakest" situation. And it all comes back to this... the music. It is my guide and my light. It saves and restores me. It is the temple and the altar. It is the doorway and the key. It is the words of my heart and the song of my emotion. it is what spirit does to me and I *know* that I do not even know the half of it. But I do know that if spirit really wants me to do this... a way will be made. And look, a way has been made! And I will go spirit. I so gladly and humbly and thankfully, will go!

April 23   Amazon Womens Music Fest
April 28   Fayettville CSL
May 7      Iowa Womens Caucus Des Moines
May 12 - 15 Our Havens Women's Gathering Indiana
MAy 19   Online Concert from Venus Land Illinois
May 22    Unity Naperville Illinois
May 26    Caldera Music Fest

CALDERA!!  I had been waiting so long for this event and for lots of reasons.  First, because it is only event of its kind happening now ~ a pagan music festival. Second because so many of my good friends were going to be there/ perform there! 3rd it was the release of the GREEN ALBUM!!!  I mean what more could you want?  I was so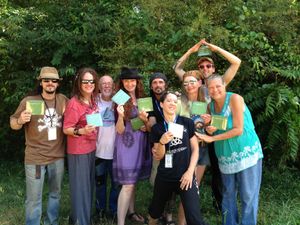 excited to be there and from the minute I got there my feet never touched the ground. It was epic through and through. David Banaach, organizer, along with his wife Mary and their many volunteers did an amazing job!   There was VIP camping with air conditioned showers for crying out loud.  You might think that was a bit much but it was hot and I was grateful for any break from the heat.  Regardless it didn't matter. Hot or not  I was still happy as could be and enjoyed every minute of it.   Every one of the 30 acts was stellar.  Including of course  the artists on the Green Album that could attend Wendy Rule, SJ Tucker, Bekah Kelso, Tuatha Dea, Mama Gina, Damh the Bard,,Celia Farran, ​ Mama Gina, Brian Henke, Sharon Knight ​ and Murphey's Midnight Rounders.  I spent most of my time at the stage because not only I am huge fan of all these people but  I got to sing and play along with many of them *big happy dance* We were all taking turns playing on each others sets ~ and there were *all plays* that people are still talking about on my travels. Having all these folks in one place created a vortex that leveled up this special world of the magical muse and all her people. And the Green Album got the best possible CD release imaginable!  Danny and Becca of Tuatha Dea worked so hard on that project and I was blessed and honored to be a part of it. The picture right was taken right after we were each given our stash of CD's to sell.  A happy and proud moment for us all. It is still selling at the THE GREEN ALBUM.NET and at last count had saved nearly 3k acres of rain forest.  

The green album CD release set on Saturday NIght was an amazing thing to behold and brought tears to many eyes. It was a living realization of a dream come true as each of the artists played their song in the order it appears on the CD.  We missed Kellianna and Spiral Rhythm dearly.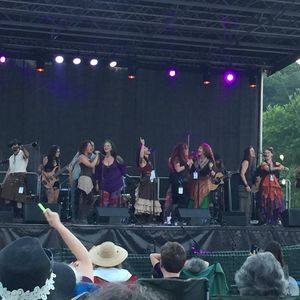 On top of all this goodness I got to share this event with my love Andrea.  She Arrived late on Thursday after the gate was locked and as a result had to stay at the local hotel.  (A room they kindly arranged for her)  This is a rare and beautiful thing but of all of all the events this year this was the one I truly wanted to share with her. She came in first thing Friday morning and we hit the ground running. 

The only hard part was the end.  I tried not to think about it the whole time but it lurked ... It would be over soon and I would have to say goodbye not only to Andrea to but to being together with some of my dearest friends and musical cohorts all at the same time!!!  Who knew when, if ever, that would happen again like that.   It was like a dream ~ It *was* a dream and I didn't want to wake up. But I had to. I said long bitter sweet goodbyes to everyone one by one then went to get some food with Lynda and Andrea.  Then I said goodbye to both of them. This was the hardest thing ever cause I was going to continue on the road by myself.  Something I had not done in a very long time. 

~~~~~

It was after my gig in Asheville, on June 5, when my phone was taken.  To back track  I was a little uncertain about  how my Asheville gig would go because I had never played there before and didn't know a lot of people... next to no one before I played at Caldera.  I connected with Star Bustamonte at Caldera through a mutual friend who was kind enough to point me in her direction. She did not hesitate to offer her home to me and so I contacted her after Caldera and bam - a place to stay. :) 

I had a small but awesome gathering of people who came to the show, including Danny and Becca from Tuatha Dea.  I was so touched that they came to my show. We had known each other for a couple of years and got closer though our work on the Green Album.  It went well and afterwards, Star, Danny, Becca and I went to dinner.  It was fun and we had a lot of great conversations. After dinner we decided to gather at Star's house.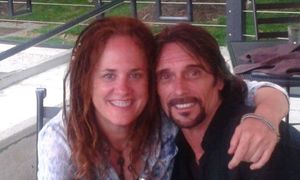 On the way back I left our 3 car caravan and stopped at a convenience store. I jumped out quickly and ran into the store without locking my car. Bad move. I got back in the car and started to drive away when I noticed my phone missing. It didn't take long for me to realize it had been taken out of the car. I had been listening to music on it when I stopped so it had been sitting in the cradle I have for it.  Someone had nabbed it in the 2 minutes I was in the store. Bummer.  I proceeded to do all the things you are suppose to do if your phone is stolen.  I was somewhat familiar since it had happened to me before.  Today I have been dealing with the headache of reporting it stolen, making an insurance claim and figuring out what to do next. It's too long and boring to list details here. And meanwhile, while in the course of dealing with that I was dealing with my reaction.  

In the course of my spiritual practice of mindful living, meditation and positive thought, regular life including all its challenges and frustrations continue.  I use the opportunity of these challenges to utilize these tools. Not easy, but a good practice. And it helps quite a bit to keep my peace of mind. Here is what I posted about it on facebook. 

To the one who stole my phone : Thank you for providing me with an exercise in compassion and patience. It is my goal to move towards enlightenment and be of service to others with my music and my actions. So I study and I practice... and so to walk my talk here I took a breath after cursing you... then I moved into a deeper space and looked at the bigger picture. Then I cursed you again took another breath and began again. What soul is this whose desperate state led them to this action? What life must be like for one who lives in such fear despair and doubt that they felt they needed to do this.? Where have they come from? And what more will they do before they see that these actions only contribute to a world of pain and fear. What can I do to help from here? Not sure. ... but one thing that couldn't hurt, especially energetically, is to be in a place of compassion... from here all healing is possible. And at least no one can rob me of my peace. 
"A human being is a part of the whole called by us universe, a part limited in time and space. He experiences himself, his thoughts and feeling as something separated from the rest, a kind of optical delusion of his consciousness. This delusion is a kind of prison for us, restricting us to our personal desires and to affection for a few persons nearest to us. Our task must be to free ourselves from this prison by widening our circle of compassion to embrace all living creatures and the whole of nature in its beauty." 
― Albert Einstein


From Asheville I went up to Maryland for 2 weeks at Ramblewood Retreat Center where I was scheduled to perform at two events happening back to back.  First was Maryland Faerie Festival  followed the next week by Free Spirit Gathering.  Both were awesome events in different ways. The faerie fest was incredibly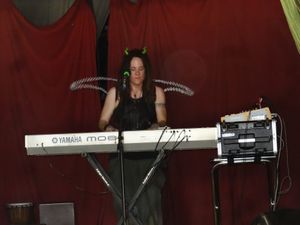 shiny and filled with all the magic of the faerie court. It is open to the public and had tons of folk streaming in for the vendors and the festivities which began with a drum circle Friday night and kept going through Sunday evening.  I had 2 shows each day; one at the bat barn (shown right) and one at the tulip stage.  I had fun sporting my neon green horns during the whole event.   I also got to wear an awesome set of chain mail faerie wings that I borrowed from the chain mail vendor with the promise to give them a plug during my show. (want some)   A dragon showed up at  my last show but thankfully not the fire breathing sort. 

Late afternoon Sunday the fest was over and as fast as it was set up the Faerie Fest  was torn down.  Everyone cleared out to make way for Free Spirit Gathering. That was my que for a couple of days off . These  were really my first days off in a while.... where I was not driving, booking playing promoting or SOMETHING  so I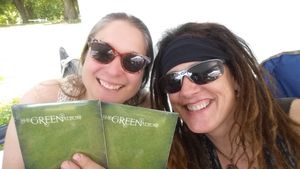 CHILLED ~ kind of disappeared into my cabin space for a while. Did lots of yoga - meditation reading and general relaxing. Aaaahhh.  I also began to work on the talk I was due to give in St Louis in a couple of weeks. (So i guess it wasn't total chill time)  

Meanwhile over the next couple of days FSG folks began to trickle in. I was excited to see it take shape because it was my first time at this event. And I was eagerly awaiting the arrival of fellow Green Album Artist Kellianna.  We had done another couple of fests together in 2012 but i had not seen her since.  And I missed her at at Caldera and the Green Album CD release since she could not be there  because of a family wedding. I needed to hug this woman ~  we just did an album together!  Finally she came in on Wednesday and I happily got that hug.  

We were both playing on Thursday night June 16.  Apparently the year before at FSG  there had been a bad storm during the Thursday night show when SJ Tucker played. They lost power and it was threatening to do it again. We were getting all kinds of storm warnings. and we weren't sure who should go first as the event coordinators had left is up to us. Since the storm was bearing down we decided I should go first in case there was a loss of power again because she could play with or without power and I pretty much could not.  Well I could but - it would be a VERY different show. As in "all my songs acapella while I do air keyboard?"  :P  I went first and she played after. The storm never materialized (because we planned for it)  so it all went off without a hitch.  I got a great response which I was happy for since it was my introduction to this community. And what a great community it is!  

The next day (Friday) I had to start making my way down south.  Sadly I  could not stay for the whole event.  I was playing and *speaking* for the first time in St Louis at the Radiance Center for Spiritual Living the next weekend and was planning to pick up my family in Fayetteville so we could go together. I had not seen them in a month by this time so I was pretty anxious to get there plus I was a bit nervous about this gig since it was my first time speaking and I needed to finish my message. BTW  Fayetteville is NOT on the way but 6 hours past St. Louis  but it was worth the extra drive time!  

I got a lot of driving done on Friday and made it to a hotel somewhere in Virginia that night.  I was too tired from all that festing to go much further. While in the hotel I plugged back in online and saw that Tricky Pixie and Mama Gina were playing in St Louis the next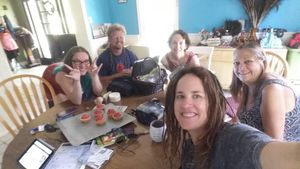 night!!  It was on my route home but still about 13 hours away so there was no way I could make it to their show in time. But I could stop by for a drive by hug on Sunday which i DID!! I drove like heck all day Saturday and ended up getting there about 2am Sunday morning.  Fun trivia Fact: Sooj (SJ Tucker) and I had a  song swapping duo we put together called "Drive By Hug" for a show we did together in Seattle in 2010.
Now you know!! 

It was awesome to see them !!  I had not seen Alex and Betsy of Trickie Pixie since 2010 in Seattle. (see above) And it was a happy thing as always to see Sooj and Mama Gina again since we had just seen each other at Caldera (time to reminisce) and I was glad to hug Mama GIna since she had just gotten out of the hospital (where she became nine toes for real) and was recovering at the house of Ms Amanda Bell where this picture was taken. All seemed well and aglow from their house concert there the night before.  And I got to be serenaded by Mama Gina with a song about questionable items sometimes sold as having magical properties.... It was hilarious and scandalous ~ the perfect compliment to Sunday brunch. I felt recharged! I said my goodbyes and headed on to Fayetteville and Home! 

I was so happy to be home and finally was able to unwind a bit with my precious family. So HAPPY TO SEE THEM!!   I also had some time to prepare for my gig at Radiance CSL where I was speaking for the first time ever. I was nervous about it and had been working on my talk off and on while on the road but once I got back to Fayetteville I was able to really focus on it. I worked on it every day and even practiced on Andrea, who let me preach to her, smiling all the while <3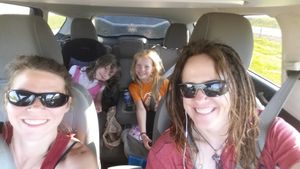 She gave me some great feedback. I kept editing it even after I thought I was finished. We left Friday and all piled in the G MOBILE. (I just made that up and I like it a lot so its gonna stick) and were back off to The Lou.  We got settled in Friday night at the home of Rev Pat Powers of CSL (who owns that name ~ I mean a truly powerful woman!!)  Saturday night she hosted a house concert for me there. I still worked on my talk even after the show making last minute tweaks and practicing reading it without looking at it :P 

Sunday went well.  At least that's what Pat said - she said it was "over the top good" for a first time. I did not feel so good about it.  And especially now that I have spoken a few times and am feeling much more confident.   

My talk was on the True Nature of Power.  I plan to video myself giving this message with some  concept footage soon. This would be part of  a video series I wold like to make of my talks as I write them.  I HAVE SO MANY IDEAS like that.  I can't wait to do them all :D But here's the jist of the message I kind of want to share here. I truly believe and have always believed that there is only one true power in the Universe. At Unity we affirm this power as God. I agree with this.  But I also know and sense that this power is THE DIVINE SOURCE of all CREATION.  The origin of life ~ and this assumption can be proven scientifically.   I believe that the evidence of how true power really works  is all around us  and can be seen and understood through the study of the universe. LIGHT is the true power. DARK is not a power.  It is where light is not. In the beginning all the mass of the universe was condensed TO ONE POINT  ( not two) and the BIG BANG happened.  I believe we will understand the force of the BIG BANG more in the future.  TO me all that is necessary to know about it is that it is the spark of light and the origin of the only real power working in our lives. Look for my video on this hopefully coming soon. After the service I did a concert and had a great time.  I got to know some of the folks at the center there.  We drove home tired but happy to be going home to finally have some real down time. 

July marked the first July in 6 years or so I was not in the far north of the country or Canada.  AND MY BIG FAT TEXAS FAMILY wedding was the reason why!  !  I had to be in  Texas for the 2nd half of July for my Niece's  wedding which was a year in the planning  So for the first half  I returned to my music director  responsibilities at Center for Spiritual Living in Fayetteville where I  provided special music for the first 2 Sundays. I also had some production clients (did you know I take music production/recording/writing clients? ) And some cherished family time.  We got to go to Crystal Bridges in Bentonville just an hour North of fayetteillve The second half of July was taken up by a big family wedding in Texas. I am Mean big! 



to be continued, corrected, updated, added to etc ~ soon