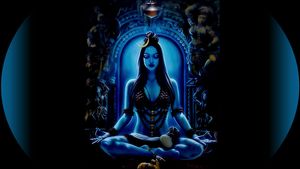 Well today is the day I finally let it out.  As I flipped the wall calendar over to June it hit me hard that I am *not* leaving in a week for my summer tour like I have done every year for the last 13 years.  I cried my eyes out in grief.  I have been keeping a brave face until now ~ but I will miss you out there like I never thought I would have to!  I will miss the sweet communion of music and tribe and country highway and festival and nature - blended with the sweet harmony of our voices, pouring out our hearts as we sing.  It is one of my greatest joys and something I live for.   I still pray at noon every day and today I prayed that I can fill the giant void in my heart this summer with lots of creative goodness and continue to make this world a bit shinier as a result. I trust it is so ~ Blessed be "til I can touch you again". (Window to the World) 
June 9 my mother will be going to stay with my sister for 6 months (we share caregiving responsibilities 6 months each).  That's when I was going to be free of caregiving for six months to tour and play my music.  I had the most amazing festival line up this year!   Our first gigs were scheduled for  June 11, 12 & 13 in Springfield Missouri and on to many great fests and concerts from there.  Can you tell I was anxious to get started? 
But alas...it has all cancelled due to the pandemic except for one fest to be held in September ~ Gaea Goddess Gathering.  Oh please let this one happen!! (safely) 
The good news in all this is that I will have more time to work on releasing songs from my new concept album Sacred Flow, where sacred practice and symbol become song.  The next song & video to be released is Kundalini Rising.  As soon as I have enough $ from downloads of Celtic Knot I can send it off to mixed and mastered!  If you would like to help you can share the download link https://gingerdoss.com/music-store  or the video link: https://youtu.be/2ePsD1oEhuk and let people know that downloads will help to keep the releases coming!  When I first release a song there are quite a few downloads but then it slows to a trickle.   It would only take about 250 more downloads at $1/ea to make my goal!  So easy <3 
I think you will really like Kundalini Rising.  It has a slow sexy tribal groove and like Kundalini energy itself, builds in intensity.  I have the perfect dancer for the video ~ Gaea Lady in Chicago.  We worked together at Tribal Stomp there last November and she choreographed dances (with matching costumes)  to 5 of my songs that BLEW ME AWAY.  I specifically wanted a dancer with a snake tattoo (Kundalini  energy is often characterized by the serpent) and I mentioned that to her after the show.  She pulled up her sleeve showed me the most beautiful snake tattoo and said "Like this?"   Well that pretty much sealed the deal for me, as if it wasn't already. 
I plan to go to Chicago and film her sometime in June, a prospect that is a little scary with the pandemic but I know how to be very careful and I will be.  I trust that I will stay safe.  I will probably have to set up a fan fund for that process to pay her and make all my expenses. I will have more details on that as a plan comes together. 
I admit that that the current situation in our country has me in a kind of creative/emotional vortex.  The same thing happened when the pandemic became a reality and everything shut down, all creative flow on what I was working on at the time stopped and I couldn't move forward until I expressed my heart through the song  Window to the World.  Now I am feeling the same sort of pull to write and express about the need for racial healing and reform.  I know that spirit will speak to me on that when the time is right. 
Here is more about Kundalini energy ~ Kundalini shakti is primordial cosmic energy, known as the Serpent Power. It is the fundamental life force and, at the same time, the supreme spiritual energy usually lying dormant and coiled three-and-a-half times around muladhara chakra at the base of the subtle spine. 
The word kundalini is derived from the Sanskrit word kundal, meaning "coiled up." In Tantra Yoga, kundalini is an aspect of Shakti, divine female energy and the inseparable lover of Shiva. Kundalini is generally defined as an essential potentiality of our being which, upon awakening, opens us to a cosmic, non-personal dimension of energy. Spiritual realization results from the transformations that it produces. 
The song Kundalini Rising attempts to put music to the rising of this energy.   During the process of writing the song, I kid you not, I had a subtle rising within me!  It was SO intense.   I cannot wait for you to hear it and to make this video.  It promises to be a very powerful  experience. 
Thank you for being a part of my experience on this planet and  in this life (if you are reading this, you are)   Your support and encouragement by downloading or donating or even just sending a note of connection and encouragement will help me to get through this time  when I cannot tour connect with you and perform.  THANK YOU! 
The divine in me so clearly and dearly loves the divine in you <3 
all my love 
ginger