Hello beautiful souls who are reading this blog and that I love so much in this world!!
 I am taking a break from long hours of daily production on the new album to check in with you.  And it's about time right? Well I figured you would appreciate me working hard on the songs and sticking with it for a time.  And it has pretty much consumed every hour of the day in one form or another. :) 
This is where the fan fun is
:
THANK YOU!!  
Because of your wonderful generosity I am almost to my goal at $4,217 with 15 days left to reach it! I organized this fan fund myself so that I could save the percentage the big companies take out.  If I had gone with an outside company I would have had to ask for more money to compensate and I did not want to do that.  I did my last campaign myself with much success so I thought I would do it again and so far so very good!!  THANK YOU!!! 
This is where I am:
I got pretty far behind where I wanted to be by now because of my mom's illness and the care she required from me.  Truth be told this is why I am doing the album in Houston.  She needs me to be here to help and I am so very glad I am able to right now!  My sister is here as well but she is a full time executive running a very important business and her kids and hubby need her too. She will be taking over for me when I am on the road so I am doing as much as I can, when I can.  I knew she was going to need me, but I wasn't sure how much or if she might become ill.  
The good news is my mom is doing much better!
  She has recovered from the scary fever, her falls, the effect of general anesthesia and is back to herself again. She still needs me but not to the extent she did. This frees me up to focus more of my time on the record. Thank you for your prayers and energy.  This has been an incredibly challenging time for both my mother and I ~ one of the most challenging by far.  Living with my mom is weird and wonderful and it  brings up waves of emotional highs and lows at random "not ready for you" times. I have
not
lived with her my entire adult life so childhood flashbacks have been creeping up behind me and doing cutaways of things I have not thought of in forever, bringing up laughter and tears.  And then I look to the future. With the pain of losing my dad still fresh in my heart I worry about her and what will happen, what is starting to happen.  But I have many spiritual tools for dealing with challenges and my music is one of them.
My music is holding me in that true unbreakable love, again!  
 And I am transferring all that love back into each song.   There is much more I could say about this, but as I say each time I get distracted…
I need to focus on the record!! 
That's my catch phrase right now. 
This is where the album is:
  AAAAAAUGH!!!!  OK That's much better just needed to get that out.  ;) All basic production is finished.  All songs are written.
 I can't believe I just typed that
.  I have most of the basic tracking down for each instrument.  I am now in the interminable process of tweaking and reviewing. During writing and preproduction I quickly record rough tracks to review parts and see if I like them. It's like the artist's  sketch before they start painting.  I throw down a bass line here a keyboard track there, a rhythm track, a rough vocal on a hand held mic, then listen. 
Hmmm
I say. 
It needs this here, that there.  It needs a harmony.  Oh wait I don't like that part. Wait, this whole song needs to be in a lower key cause I will never be able to hit the high note in the chorus and I love that note.  So I am not going to change that note I am going to change the whole song around it. Wait – that groove does not work there – what was I thinking?  Ooo I like that part.  Yes that sounds good but the whole thing is too slow, start over
.  I have done all those things on this record. 
One song I  started over 3 times to get tempo and key right.  
That's pretty rare fortunately
. 
Can you guess which song? Of course not!  It was And In Me –
I am still not sure I like that title
.   Now this process goes on for EVER.  Then I finally say to myself THIS IS IT!  And start tracking the final tracks.  That is where I am now.  
Now during final tracking I will, for example, replay the piano with special attention to details like continuity, level and emphasis on rhythm so it works smoothly and tightly with drums and bass. Oh the bass.  I work very hard on bass lines. I love writing them and they challenge me to the point where I get absolutely crazay.  (I spelled that the way I wanted to)  Example of a bass lines I worked for days and days on are 
Run Little One
on the
From Love to Love album
, and the song
This Cocoon
from the album
This Cocoon
.  You would not believe how many different varieties of bass line I tired before I settled on the one you hear. Now I am not playing bass mind you.  I am playing a bass patch on my
Yamaha M08
keyboard.  (It has LOTS of good ones to choose from) Bass is the foundation of any song and can absolutely make or break the feel. This is true of every instrument in a song but especially true of bass.  I would love to play one for real but I also love playing them on my keyboard.  I picture the bass in my hand as I play.  I imagine myself as "the bass player" when as I am tracking.   
I am a closet bass player.  
But I have BETTER than the next best thing.  I have
Lynda Millard
who takes the lines I write and makes them her own for our live shows. She is my favorite bass player and my bestest friend. I am very lucky to have both of those rolled into one!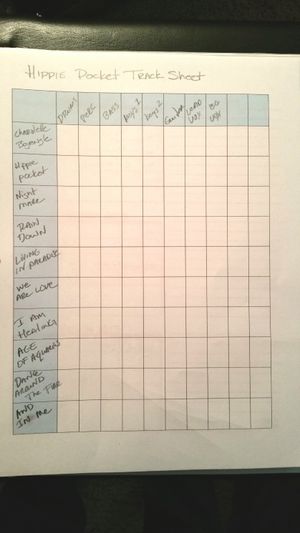 OK so you get the picture.  I am in the final tracking days before I go into the pro studio where I will record kit drums, more hand percussion and possibly a guitar or two. (
name things ginger can't do in her mom's apartment
) 
All of the decisions on what I will record when I get in the big studio need to be made before I get there
. It could get
very
expensive if  I am not prepared.  The picture to you see is the final tracking grid I use for the album so all that needs to be done, and
is
done, can be seen at a glance.   I borrowed the idea from my good friend
SJ Tucker
 who used one when I was tracking her. We worked on several of her albums together. The column on the left is the song name and the row on top is the track to add (I left a couple extra in case) ... keys, bass drums etc. I love the idea of filing in boxes when something is completed ~ gives you that extra sense of satisfaction. I will post more pics of the grid as boxes fill in. There are some that should be filled in now, but I wanted to show you the clean sheet first.
After all tracking is finalized then we will start mixing
. I have already gone into more technical details than you probably want about tracking and mixing is an even more technical process which can take hours per song.  I will spare you any more detail about that other than to say it is a
critical process to the final quality of the record
. After mixing is
mastering
.  
What?  You're not done yet?!  Ah come on!!
Every professional recording artist you hear does this process before you hear it.  Simply put, mastering takes each song on an album and puts them together so they make a cohesive group  all the same level and shine.   I am still deciding on which mastering house and studio I will use.  I have been doing the research and will let you all know when I have chosen one.  I would like to be in there the last week of March. but the truth is I am not sure I will make it by then. I have to leave for 3 weeks in April for
shows
 in Arkansas and Kansas. That's why I wanted to be finished by April 1.  I am trying my hardest but sweating it a bit about now.  
Wish me luck!!! 
Meanwhile there is the album cover and graphic layout.  
My good friend Cheryl Russell of
Design Galveston
 will be working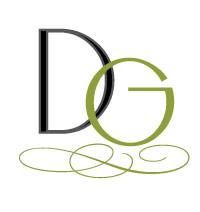 on it.  She is the one who did the cover mock up I have been using for promotion.  I basically said I wanted the back of a hippie girls jean pocket with a heart coming out and she did the rest. My part will be to submit all the text and the bar code and figure out song order and make sure I have all the studio credits, executive producer credits (from fan funding) and musicians credits correct (which is harder than you think). And all of that info has to be compiled after everything has been finished so no one gets left out. My deadline for album layout and submission to
duplicator
is May 1, so I have it in my car when heading to
Heartland Festival
 which is the first stop on my summer tour.  She will also design the t-shirts. There's a little more time on that deadline but not much. GO CHERYL!!! AND GINGER!!! HURRY UP GINGER!!!  
I set this schedule and I fully intend to make these deadlines.
I also want the best quality for this record and if making it better means I have to extend them, I may have to. And that's OK ~ c
uz it will be worth it!!!
I am so thankful that you believe in me.
I work on believing in me too and with spirits help I do!!  I will post again as soon as all the other work I am doing allows!!  Did someone says taxes?  You just hush now. 
Sending so much love and gratitude  to you all always!