First I want to say
THANK YOU!!!!
 After only 2 1/2 weeks of the
Fan Funding Campaign
I am over half way to my Goal !!!  
Thanks so much to ALL OF YOU!!!
To all those who have contributed and shared ~  Bless you for supporting my music!  It touches my heart more than I can ever say and makes it possible to continue to *make* my music. Bless you AGAIN! There is no such thing as too many blessings and you have blessed me infinitely <3 
Here's what's been going on....
I had a great visit to Fayetteville during Valentine's week and burrowed in with my favorite faerie three; Andrea, Rowan and Willow (keyboards were there too). Unbeknownst to me, a fourth little microscopic guy was also in attendance and decided to burrow in as well, a little too close. Yes, this means we all got sick.  I figured out that when a cold virus decides to move in he rearranges your internal furniture and this is what causes the muscle aches. Virus: "Hmm…  I think I'll put the left eye in the right socket and stretch the right neck muscles over the left shoulder blade. Oh that's much better!! Now I'll just spread the lower back muscles apart so I can have some curtains and use the kidney as a throw pillow! Voila!"   Anyway, Mr. Virus stayed with me for a while until the onslaught of garlic and ninja tea (with essential oils ala Andrea) forced him to evacuate.   It wasn't too bad though.  I have had much worse! It was just enough to knock me down for a minute and delay the writing of the last song of the new album.  
But there is *always* magic in the air and as always that delay in song writing had a very important purpose
. Some of you may have seen my post about this ~ when an idea for a song hits me, it hits me like the sun after a long series of clouds  "GINGER, WRITE A SONG ABOUT HEALING"  it said to me as I blew my nose for the millionth time. OK then, a healing song it is.  This was to be the 10th song of the new album.  The more I thought of it the more it made sense ~ and healing from my cold was only one small reason why. 
If you've watched the
video
about my fan fund you know that I have been staying with my mom a lot this past year. For the past couple of weeks she has been having a challenging time. To be real, since my dad died in May this whole year has been difficult for her. But most recently there has been some pretty significant mental decline.  It has been hard to watch, and even harder to admit.  Her doctor also made a discovery. The heart monitor chip they put in in December showed that she has been having frequent pauses in her heartbeat, sometimes for as long as 4 seconds.  Within a couple of days of this discovery they scheduled her for a new sort of pace maker.  It actually goes inside her heart (not under the skin) and only works when it needs to.  They put it in on Tuesday this week (2/24).  The procedure went well but since we have been back from the hospital she has required constant care and can't be left alone.  She developed a fever, her blood pressure has been very high and she has had difficulty with balance.  She has fallen a couple of times (without significant injury) and has been extremely disoriented and unengaged. She has mental issues, but not to this extreme.  Needless to say it has been taking most of mine, and my sister's time to care for her. As I write this it is after 2am.  It's only when she sleeps that I can focus on other things.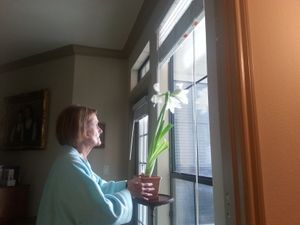 Now meanwhile
the computer above my keyboards has been open to the lyric page of my new and as yet unfinished healing song. I have kept it there for a couple of days now so I can think about it and keep the healing energy close to heart.  I see it every time I walk by. 
The first verse was all that was written up until an hour or so ago.   
There is light in this heat A spark the fever will feedAnd enfolding this need An overwhelming relief I am healing
A little about the intent of this song - With the lyrics of this song I want to use the symptoms of illness, which are always our guide, as a healing and meditation *focus point* to transform the energy usually created by symptoms into that of a healing light.  My hope is that this song will be a healing meditation, prayer and visualization for both the healing and the healer.   
Anyway - earlier this afternoon, my mom's fever spiked to 102.5 My sister and I had a conference in the bathroom so we could talk about it without alarming her.  We were trying to figure out if she should go back to the hospital.  We had been in communication with the doctor and he said it was up to us at this point.   
I will be real here.  I am not ready to lose my mother.  Who ever is? But I am still grieving my dad.  We lost him in the same hospital where we were talking about sending her. And we thought all he had was a cough.  Granted I will never be ready to lose her, but not now please. ;)  We stood silent in the bathroom after talking.  Neither of us wanted her to go back to the hospital (where folks tend to get weaker especially older folks) but we were afraid something more serious was going on and didn't want to make the wrong decision.  She hates it at the hospital and it is always traumatic for her when she goes in so we decided to wait and see what would happen if we did more fluids, aspirin, and of course prayer. 
And pray for her I did.  I spoke to spirit and had the "I am healing" line from my song in my head.  ( I can't wait to sing the completed song! Especially for someone who really needs it ~) It wasn't the first time this week I prayed for her but it was the most focused.  I went to get groceries and came back.  My sister left and we agreed if she wasn't better by the next day we would take her to the hospital. I started making dinner. 
Suddenly she shot up out of her chair
and strode effortlessly and confidently into the bathroom.  Now look,  I had been walking her shaky self to the bathroom every time for the past 3 days, while she held on for dear life every slow step of the way.  I was like – WHOA – and followed her into the bathroom and I was like "uh… you ok?" She was like "Yes"  (like of course why do you ask?) and just smiled at me. OK.  So I went back in to the kitchen and was just shaking my head in disbelief. She came out of the bathroom and looked at me and said "I think I have turned the corner." I think she was right. I checked her temp... it was just above normal.
Why am I still astounded when spirit works its healing light so effortlessly?  I see it all the time.
Continuing today she is better but still not 100% by a long shot. I must ask for forgiveness and patience because while she needs my care to this extreme there is very little else I am getting done on music. 
I trust with spirits help I will keep up with everything AND YOUR AMAZING HELP IS A BIG REASON WHY. :)
Your continued support gives me hope and helps me with the added energy boost I need to move forward on this project!  
On a final note I want to say that, believe it or not, it's hard for me to open up; hard for me to say what's going on with me - either in this blog or in a conversation even.  It's been an issue for me.  Opening up about my mom here was not easy.  Now to express in a song is another thing.   My songs come out as an effortless reflection of my innermost emotional landscape, with melody trees and rhythm rivers; and poetry to point you in the direction that feels right.  Within that space I know the listener can feel my love and know it is there without a doubt.  My heart likes that. First know there is love, then listen to what I am saying.  But this year as I have said, I am called to heal. 
And as a part of that healing I want to open up more.
  I want to express with words to the people who matter most to me (that includes you).
Use your words Ginger...
 I think my father is helping me to do this from the other side. He found it hard to speak from his heart too.  Now I think he wants me to. :) 
Thanks for listening.  Up ahead is more caring for Mom and doing my best to finish my healing song by Monday.  May both endeavors bring healing to her and to our world  ~ both in this home and to the end of the Universe. 
Sending LOVE and GRATITUDE to all of you!!!
More soon...